Welcome to Flashpot Designs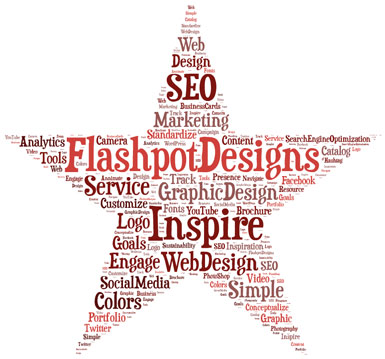 We are a small business that specializes in custom built websites, WordPress websites, ads, posters, logos, business cards, letter heads, catalogs, and more. If it has to to do with print, web or graphics in general, we are on it! Our websites are designed with the customer's ease of use in mind with equal focus on the experience of your visitors. The sites we build are only as limited as you want them to be. We believe in fast loading, functional websites that will have a great appeal to their intended audience. No matter what they are viewing it on, smart phone, tablet, or desktop, we'll make sure it looks great by using a responsive design. We can also work with you to build the content needed to put you in the best standings with the search engines.
We try to make life as simple as we can for our clients. We are known for going above and beyond in our business relationships. You can trust us to guide you in the right direction and give you the best advice on your website or design. Whether it is a complex website or the simplest of ads, you will be treated with the same respect.
We also offer integrated Social Media marketing along with your website to engage your audience on a much larger scale. Social Media is very important for growing as well as larger businesses. We can help maximize your efforts down this path!
Having been certified in Google Analytics, we are strong advocates of using the service. All of our sites now have Google Analytics implemented for tracking traffic. This leads to better content and marketing choices in the future.
Contact us today to see how we can help you succeed!
Some of our work can be found in major magazines all over the world such as: Electronic Musician, Guitar World, Mix Magazine, Pro Audio Review, EQ, Music Trades, Inside Connection, MMR (Musical Merchandise Review) & more. Check out the portfolio section to see more of our work.